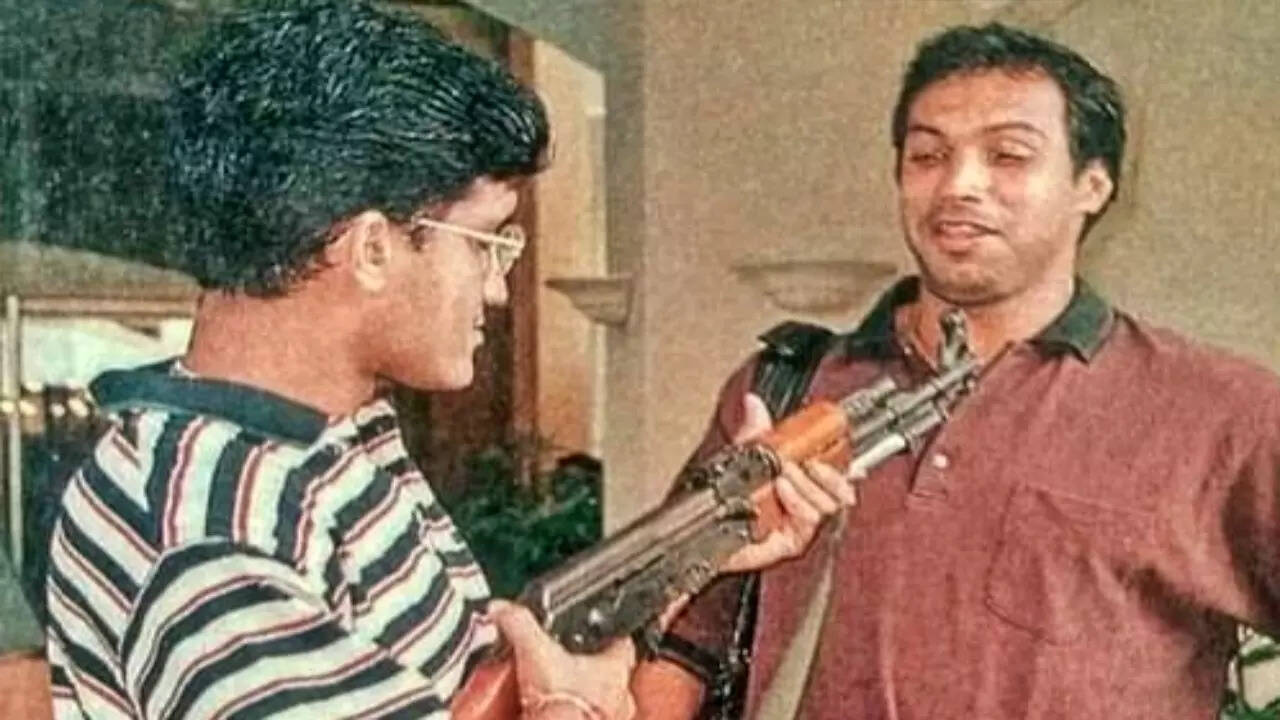 Throwback Fridays! When Sourav Ganguly Seemingly Pointed A Gun At Robin Singh.
Photo : Twitter
KEY HIGHLIGHTS
A photo of Sourav Ganguly seemingly pointing a gun at Robin Singh garnered a lot of attention on Twitter.
Ganguly and Robin Singh played together for India in the nineties.
The photo was reportedly taken during India's tour of Pakistan.
Former India captain
Sourav Ganguly
made his Test debut for India against England at Lord's in 1996 and was one of the mainstays of the Indian batting in the nineties. He, along with
Sachin Tendulkar
, Rahul Dravid, Mohammad Azharuddin, Ajay Jadeja and
Robin Singh
formed a formidable middle-order for India in the ODIs back in those days. On Thursday, a Twitter user going by the name of @bcdeshmukh83 uploaded an old photo of Ganguly pointing a gun at his teammate Robin Singh, albeit in a playful manner garnered a lot of reactions on the micro-blogging site.
In the photo, the former BCCI president is seen holding a gun, leaving the former left-handed lower-order batter visibly puzzled. He could only let out a silly grin – given the situation he found himself in. While timesnownews.com cannot independently verify when the picture was taken or during which series, one of the users indicated that it was taken during India's tour of Pakistan in 1997 led by Tendulkar. India went on to lose the ODI series 2-1.
Robin was a gritty lower-order batter, who came to India's rescue on more than one occasion in limited-overs cricket during that period. Born in Trinidad, the 59-year-old was a more than handy bowler and an equally good fielder. Having played 136 ODI matches for India, he scored 2336 runs at an average of 25.95 and picked up 69 wickets. However, he could only play one Test match for India.
Ganguly, on the other hand, called time on his international career in 2008 against Australia. The 50-year-old played 113 Test matches and 311 ODIs for India during that period. Together with Tendulkar, they had formed the best opening pair in ODIs between 1996 and 2007.
The picture above will surely bring back memories of the past – none more prominent than the partnership between the two against Pakistan in the Independence Cup played at the National Stadium, Dhaka in 1997. Tendulkar (41 off 26) helped India get off to a brilliant start before Ganguly and Robin Singh stitched together a 179-run partnership. India won the match by 3 wickets and recorded the highest run-chase in ODIs at that time.
News Source: https://www.timesnownews.com/sports/cricket/pure-gold-caption-this-unseen-photo-from-90s-seemingly-showing-sourav-ganguly-pointing-a-gun-at-robin-singh-article-100529735