These are the words you need to know to decipher the game as it has been over the last three decades
Andrew Fidel Fernando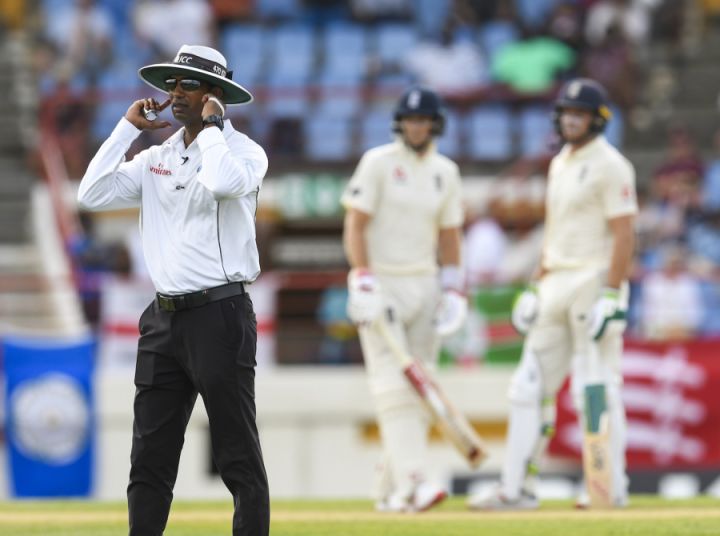 1. T20
A new cricketing format, where – get this – the whole game usually finishes in under four hours. Will it ever catch on?
2. The Duckworth-Lewis-Stern method
As if cricket wasn't enough of a nerd festival already, through the mid-90s, the sport devised a means through which rain-affected matches could come to a conclusion, by the use of a formula devised by British statisticians Frank Duckworth and Tony Lewis (which, by the way, sound like the most British-statistician names in history). In 2015, a Professor Steven Stern welded his name on to the back, producing a modification to the formula that accounts for modern styles of play.
Is it fair? Who knows? Ours is not to understand; merely to accept the judgements meted out by the Trinity.
3. Decision Review System
Sachin Tendulkar initially hated it. Fingerspinners have grown to love it. Wicketkeepers are now cricket's primary consultants. Bowlers can no longer truly celebrate an lbw decision or a faint nick until the frames have been inspected, the real-time squiggly line has been consulted, and the on-field umpire has been told when they are on display to the world, like an underwear model on a runway but way sexier.
4. Rock'n'roll
Umpires get to use this term during a decision-review process, to describe the back-and-forthing of the video frames. They deserve to sound cool in a Boomer dad sorta way.
5. Shutting down stadium bands
Now that we've buttered the umpires up, a serious grouse. In the last decade, umpires have made it a habit to walk around grounds – particularly in Sri Lanka, and especially during Tests, asking papare bands to quiet down during the overs, so they can hear the nicks better. Please don't suck the joy out of the game.
6. Powerplay
Basically the same as a fielding restriction, except that there was a time when ODI cricket experimented with a batting powerplay when the batting team tended to lose wickets, and a bowling powerplay when the bowling team tended to suck.
7. Franchise leagues
Like KFC, or McDonalds, or Subway, except everyone is called Knight Riders.
8. Strategic timeouts
Given the number of over-rate penalties dealt in cricket over the last few years, administrators have seemingly decided that the game is being played at too slow a pace. Unless you're talking about strategic timeouts, which tend to last at least two minutes usually twice during a T20 innings, and are purely for strategising and so what if the broadcast sells a few extra TV ads during the break, do you hate money, you disgusting commie?
9. Pinch-hitters
A term borrowed from baseball, where the term means substituting a hitter in the batting order or something (honestly, this piece is not heavy on the research, you can look it up yourself). In cricket, initially it meant that Sanath Jayasuriya was about to end some poor guy's career.
10. Death overs
The part of an innings where regular bowling lengths go to die, and you are either bowling yorker after yorker (and only if you are a freak), or bowling seven different kinds of slower balls, or have resigned yourself to the fact that being spanked over cow corner is your life now.
The death overs, when batters go in for the kill and bowlers give up the ghost  AFP
11. Slower ball
Like regular balls, but not as fast, but also, you have to pretend that you are bowling fast, so it's like a worse ball than you are pretending to bowl.
But the important part is that you pretend.
12. Slower-ball bouncer
Like a bouncer, but trash. (Only works if you have a non-trash regular bouncer.)
13. Wide yorker
A yorker, but stack the off-side outfield and land it half a metre outside off stump. (Consult team analyst if the batter you're bowling to has a scoop shot, and if so, perhaps a slower-ball yorker on the stumps with fine leg up is the best course of action for you. Or maybe not. Just do what the analyst says, honestly.)
14. Team analyst
Why will you idiot cricketers not listen to them?
15. Yeah Viv, talk nah
Come on, Viv. Talk nah, man. He told you.
16. Scoop
When the batter gets down and shovels the ball over their shoulder, like a gravedigger hollowing out a new coffin space (see Misbah-ul-Haq's last shot in the 2007 T20 World Cup final). Or is it the shot that launches T20 cricket into the stratosphere? (See Misbah-ul-Haq's last shot in the 2007 T20 World Cup final.)
17. Dilscoop
Like the scoop but with more heart. Usually off a length ball. When played right, it flies over the keeper. Few have been brave/stupid/Dilshan enough to pull it off.
18. Switch hit
When you switch hands and play the ball as a right-hander though you're actually a leftie, or vice versa. Also the name of a decent cricket podcast. I mean, it's pretty good, actually. It's sometimes hosted by Alan Gardner? Wow! Immediate subscribe.
19. Stump mic
Some device they put into the wickets so we can hear our favourite cricketers curse with crystal clarity. Also another spectacular podcast. God, I hope I'm getting a raise for this level of corporate shilling.
20. Spot-fixing
When cricketers conspire to fix the outcome of a single ball in the game. Mohammad Amir, and Mohammad Asif got caught doing it, and served jail time. Lou Vincent came down the track in an Indian Cricket League game and accidentally hit a ball for six that he was trying to get stumped off.
21. Doosra
The offspinner's googly. Haters gon' hate.
22. Carrom ball
The offspinner's googly that is way easier to read out of the hand.
23. Hyperextension
The thing that happens to slingy fast bowlers people have accused of chucking, but it turns out they are doing the opposite of chucking – bending their elbows in the other direction.
"…And then there will be three": Giles Clarke and N Srinivasan, two-thirds of you-know-what, hatch cunning plans at an ICC meeting in 2013  Getty Images
24. The Big Three
India-England-Australia. The axis of cricketing evil. Or merely the inevitable vessels of cricket's capitalist march. Which position you take generally depends on whether you have a mouth affixed to one of their money spouts.
25. Reverse swing
An absolutely unacceptable phenomenon that nefarious practitioners pretend is an innovatio… oh, the traditional cricket powers have figured out how to do it? Well… yes, how spectacularly wonderful! Reverse swing is a glorious testament to the evolution of cricketing skill and a celebration of what makes the sport so dynamic and enchanting.
26. Pink-ball Tests
Okay so fine, cricket still mostly uses the term "batsman". But we play some matches with a ball that is pink. Is that not enough for you feminists?
27. SENA
South Africa, England, New Zealand, Australia: nations in which the ball seams and bounces, and generally does mocking orbits of South Asian batters, before taking the edge and leaping gleefully into the hands of a slip fielder.
Words that have gone out of favour
28. Pitch-doctoring
It used to be frowned upon to prepare tracks to specifically disadvantage your opponent. But now almost everyone does it.
Why? Because screw the opposition, that's why.
29. Chinaman
The title of perhaps the greatest cricket book ever written. So we're retiring this term, like the jersey of a great NBA player.
30. Blackwash
Is it because it's not cool to say "blackwash" any more, or because West Indies don't tend to smash Test oppositions any longer? Either way, you don't hear it.
Andrew Fidel Fernando is ESPNcricinfo's Sri Lanka correspondent. @afidelf
News Source: https://www.espncricinfo.com/story/thirty-terms-that-came-into-cricket-since-1993-1363928?platform=amp