Alan Gardner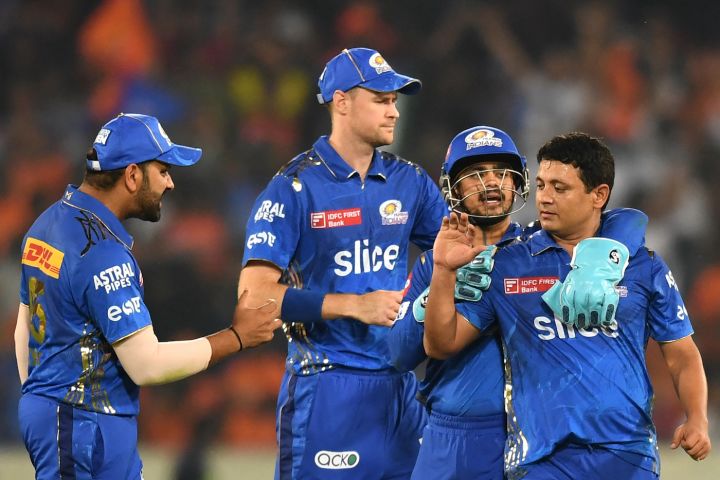 [IPL horn sounds] Enter a cherubic herald, played by Piyush Chawla wearing a loin cloth:
"Friends, patrons, brand partners – welcome to tonight's show. We are here to entertain you in the round. Have you got your body paint? Handmade signs? Ear defenders? Great, please get comfy. As we like to say at IPL: the Opera, 'Nessun dorma' – certainly not given how late this thing's going to finish."
Here follows lengthy interlude for aerial light display that no one in the auditorium can see.
[Excited chatter off stage] Enter the commentators, C Noevil, HRN O'Eval and SPK Noweevil – played by Sunil Gavaskar, Matthew Hayden and Murali Kartik.
"Howdy, folks! Almost time for the coin toss, and then we'll get this show on the road… and speaking of roads, do you drive a car? Because, boy, do we have a ton of these to shift over the next eight weeks!
[Gestures to family-sized hatchback parked in the wings]
"Anyway, we're just about ready to go… Let's head down to the middle!"
[Orchestra begins stirring rendition of "Coin Toss Overture"] Main cast files into position, followed by the chorus – aka Impact Subs. The conductor, played by Pommie Mbangwa wearing full evening dress, waves his baton and a complicated system of levers and pulleys sends a giant papier-mache rupee spinning towards the gods…
Spotlight on Mumbai Indians captain, Rohit Sharma, played by digital Hawk-Eye reconstruction of Luciano Pavarotti, puffing out his chest:
"HEEEEEeeeeeaaaaaAAAAAAADDDDDddddssssssss!" [Continues for several minutes]
Spotlight on the match referee, played by Hugh Jackman, theatrically gesturing to giant floating coin:
"Yes, maaaaaaaate, it's HEEEEEeeeeeaaaaaAAAAAAADDDDDddddssssssss!" [Continues for several minutes]
Spotlight returns to Rohit:
[Sotto voce] "We'll have a bowl, deck looks flat and dew factor may come into play later."
Captains exchange team sheets, scenery begins to move as the pitch descends with a mechanical clunk. Chennai Super Kings captain MS Dhoni, played by Russell Crowe, poses for a photograph with this week's lucky winner of a bag of cement. Suddenly one of the umpires, played by Shah Rukh Khan wearing a toga, appears centre stage and makes the floating TV screen gesture. The commentators take their cue:
"Looks like we have a review! Yes, the dugout wants another look at that decision from Rohit. Seems this is a used pitch and they might want to put runs on the board after all. Let's see what the technology says. Rock and roll the cameras… and then we can all get ready to rock and roll!"
[Lights go up and hot-dog sellers suddenly appear among the stalls]
Some time later, the protagonists reassemble for Act one, Ball one. Rohit's Mumbai Indians are now batting. The first delivery, a leg-side wide, is successfully reviewed by Dhoni after UltraEdge picks up a tickle on the tenor's tuxedo tail. After the second ball is taken in the upper circle – straightaway a contender for the Mr Moneybags People's Bank of India Catch of the Match – the other umpire, played by Preity Zinta dressed as a Valkyrie, appears centre stage to signal for the strategic timeout.
"Well, we've just seen some of the most incredible entertainment you will ever see but now it's time for a break – and while we're on subject of gripping spectacles, can I interest you in buying some tyres?"
[Lights go up, cut to cheerleaders]
Show continues for the next 17 and a half hours or until it rains – whichever comes later.
****
England's Test team under Brendon McCullum – not to mention New Zealand when he was Black Caps capo – have become the equivalent of handmade, ethically sourced, carbon-neutral, 100%-right-on-and-did-we-mention-vegan knitwear, so it was interesting to note that the ECB is "exploring" its head coach's advertising arrangement with a bookmaker. Admittedly, this wasn't quite the Full Shakib (anyone still getting updates from Betwinner News?), and McCullum's style of leadership has always betrayed a gambler's instinct. But the blazers at Lord's might think Baz has taken his "run towards the danger" mantra a bit too literally here.
****
The story of the early rounds of the County Championship – other than incessant rain – has to be news of Pep Guardiola being successfully blocked out by tailender's tailender Mohammad Abbas, after Hampshire rebuffed a request for the Manchester City manager to take Abbas' Southampton hotel suite for a few nights. Given his meticulous nature, you'd imagine Pep has subsequently done his research and been appropriately impressed by Abbas' deft control of seam and swing. Guardiola recently revealed that his three idols in life are Michael Jordan, Tiger Woods and Julia Roberts. Perhaps the Light Roller is just a foolish romantic, but might there be room for Mo Abbas to join that eclectic list?
Alan Gardner is a deputy editor at ESPNcricinfo. @alanroderick
News Source: https://www.espncricinfo.com/story/the-ipl-opera-brendon-mccullum-s-gambling-instinct-and-guardiola-rejected-for-mohammad-abbas-light-roller-1369829?platform=amp