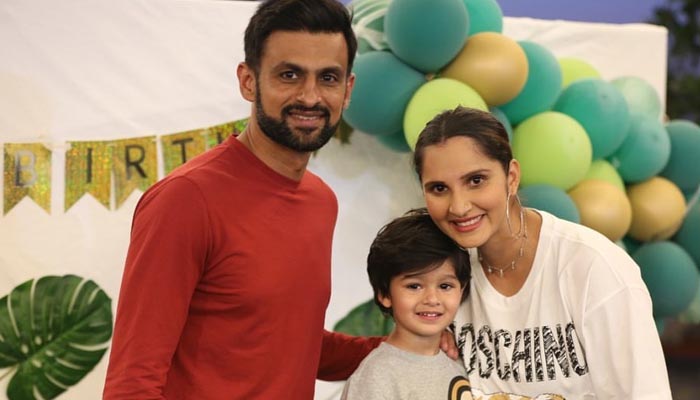 Shoaib Malik has finally opened up on speculations about his divorce from Indian tennis star, Sania Mirza.
The cricketer in an obtrusive manner rubbished these rumours, urging people to show him a couple from across the world who doesn't have arguments.
The power couple tied the knot in 2013, and have a one-year-old son, Izhan Mirza-Malik together. In December last year, several fans speculated Sania and Shoaib's relationship had gone sour after some of the events hinted that there was some trouble was brewing in their relationship.
Shoaib, while speaking on Geo News programme Score, clarified that the two are only busy with their commitment and there is nothing else.
Fans have been trying to connect the dots as Shoaib wasn't present with Sania and his son during their Umran trip while the two — who are pretty active on social media — have stopped posting pictures and messages for each other on social media.
However, Malik denied all rumours. He said: "When they [Sania and Izhan] went to perform Umrah I had commitments here and when I took a break and went to Dubai to spend time with Izhan, she [Sania] had commitments in IPL."
"Everybody needs to understand we belong to different countries and have our own commitments," he emphasised.
In response to a question regarding his reaction to such news reports, the all-rounder said that if one focuses on such news they feel bad but if one doesn't pay heed to such rumours they don't feel bad. "This is way neither I released a statement nor did she," he added.
Shoaib, answering a question regarding Sania blocking him from social media accounts, said that it was news to him that Sania has "unfollowed me".
He further urged the people to show him couples who don't see any ups and downs in their relationship as it is a part of their life.
The cricketer also said that the love and respect between the two is still there. He further added that because of Sania's commitments towards IPL, the two cannot celebrate this Eid together. He lamented that he does miss his wife and son but their professional commitments affect their plan.
News Source: https://www.geo.tv/latest/483472-shoaib-malik-breaks-silence-over-divorce-rumours