Among Indians with at least 500 runs in the tournament, only one has hit more sixes than fours and that's the CSK spin hitter
Deivarayan Muthu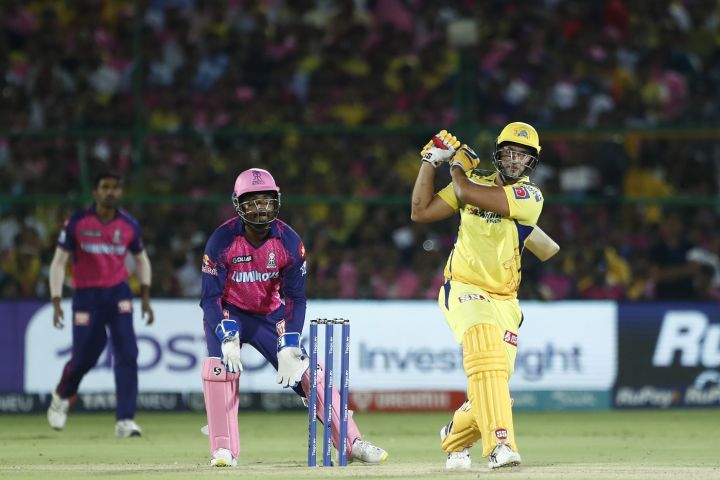 Shivam Dube is a six-hitter.
Since his IPL debut in 2019, he has smashed 57 sixes and 56 fours. Among Indian batters with at least 500 runs in the tournament, nobody else's sixes tally is greater than his fours tally. Overall, only Kieron Pollard (223 sixes, 218 fours), Andre Russell (183 sixes, 144 fours), Nicholas Pooran (80 sixes, 62 fours), Shimron Hetmyer (67 sixes, 62 fours) and Liam Livingstone (42 sixes, 40 fours) have hit more sixes than fours for this condition in the IPL.
One-third of Dube's sixes have come this season alone, which is just passed its midway stage.
Dube has his limitations as a batter: he is vulnerable against express pace and bounce, and similarly struggles against wide lines. But he has the tools to dominate any variety of spin. His big reach and long levers can mess with the length – and mind – of even top T20 spinners. With those gifts, he can convert a length ball into a slot ball. Just ask the likes of R Ashwin, Sunil Narine and Varun Chakravarthy. Royal Challengers Bangalore even had to hide Wanindu Hasaranga, the No.1-ranked T20I spinner, from Dube.
When Dube was with Royal Challengers in 2019 and 2020, they largely used him as a finisher at Nos. 6 and 7, which exposed him to fast bowlers and death-bowling specialists. In 13 innings for them, Dube managed only 169 runs at an average of 16.90, high score of 27 not out, and strike rate of 122.46. With more opportunities up the order for Super Kings and the freedom to line up spinners, Dube has lifted his average to 30.88 after 18 innings and strike rate to 156.71.
After the game against Royal Challengers at the Chinnaswamy Stadium, MS Dhoni revealed that Super Kings originally had some plans in store for Dube ahead of IPL 2023, but he arrived at their camp in Chennai last month with an injury. So, they put them on pause and just tried to maximise Dube's strengths by deploying him as their spin hitter at No. 3 or 4, and giving him ideal entry points to start against spin. The slower bowlers have been in action from at least one end when Dube has walked out to bat in six of the seven innings he has played this season.
Bumping Dube up the order coincided with Ben Stokes' injury-enforced absence, and in order to accommodate Dube, the Super Kings management has been open to dropping Moeen Ali, another spin hitter, and pushing Ravindra Jadeja down the order. The move has worked well for them, with Dube rattling off three successive half-centuries.
"He is someone who can hit very cleanly," Dhoni said of Dube after he had slammed his first fifty in Bengaluru. "Yes, he has an issue with fast bowlers, but when it comes to the spinners, he's a very clean hitter and he's a tall guy. So, he has a different reach compared to some of the other batters. So, the spinners have to adjust their length according to him.
"We had certain plans for him, but once he arrived for our camp, he was injured. So, we couldn't do a lot of work, so we feel he's somebody who can deliver and get us those extra runs in the middle overs. The thing is he needs to believe in that more than us. We know he has the talent but once you cross the rope and you're standing over there [in the middle], you're on your own. So, you need to have that belief in yourself."
In that game against Royal Challengers, Dube launched an attempted yorker from Harshal Patel into the roof of the stadium for a 111-metre six. His ability to hit such monster sixes has triggered bidding wars at auctions. Amol Muzumdar, an analyst for ESPNcricinfo and Dube's coach at Mumbai in domestic cricket, feels Dube's six hitting is "second to none".
"When you look at Shivam Dube, the first thing that strikes you is his ball-striking ability," Muzumdar says. "His ball-striking is unique and very hard, and his six-hitting ability is second to none. That's why he becomes a very dangerous T20 player. He's got long levers and uses those long levers to good effect and hence he gets that distance on the ball. He is aware of it, and he goes about training hitting those big shots in those net sessions.
"I've seen him hit top-quality spinners in domestic cricket, and here even in the IPL. Of course, the pitches in the IPL and domestic cricket differ, but he's got the ability to adjust quickly. He's a thorough professional."
Focusing on fitness and lower-body strength during the domestic season has also contributed to Dube's success. With Stokes still on the sidelines, Dhoni has also trusted Dube's catching and fielding at the hotspots in the outfield.
"If you look at him, he doesn't seem that methodical, but he's very methodical in his approach," Muzumdar says. "When he comes for practice, he's very straightforward and he knows what he's going to do out of that session. Every practice session means a lot to him. He was coming out of an injury into the domestic season and again [got injured]. There was not much cricket played post IPL because of the extended monsoons in Mumbai. So, we had a short trip to Ahmedabad and from there we started our campaign in the Syed Mushtaq Ali [Trophy].
"He has worked hard on his fitness and spent a lot of time with the physio and the trainer. He was working a lot on his running and his striding. He just wanted to get more strength in his legs because the hamstring injury was something of a big concern for him."
India had flirted with 'Project Dube' before but it didn't work out. He was once hammered for 34 runs in an over against New Zealand in a T20I in Mount Maunganui in 2020. Which is maybe why this new role fits him better. He doesn't have to worry about bowling anymore. He can put all his focus on the one thing he does better most people out there. Hit spinners for sixes. With Super Kings set to play four of their last six league fixtures – and potentially the playoffs – at spin-friendly Chepauk, Dube's influence could be huge.
Deivarayan Muthu is a sub-editor at ESPNcricinfo
News Source: https://www.espncricinfo.com/story/shivam-dube-of-chennai-super-kings-joins-the-ipl-six-hitting-elite-1372036?platform=amp