As the season goes on and the pitches get tired, Royals' bowling attack could be one to watch out for
Sidharth Monga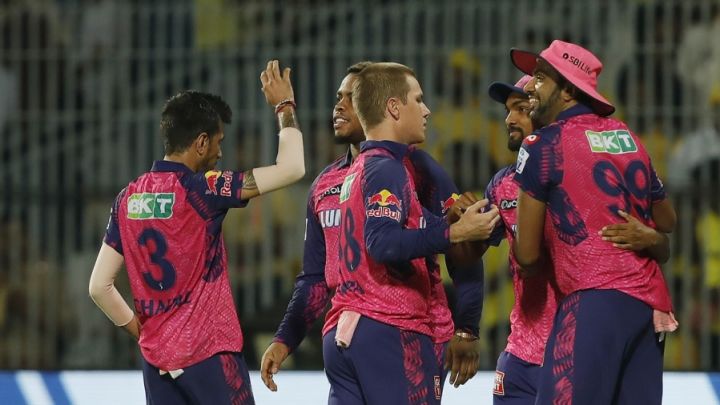 One of the early lures of the IPL was seeing as team-mates legends of the sport who would otherwise never be on the same side. Think of the frenzy the world went into when Sachin Tendulkar and Ricky Ponting opened. The bromance Virat Kohli initiates every year: Chris Gayle to AB de Villiers to Faf du Plessis.
There is one such dream team coming together this year without much fanfare. Probably because they don't do a glamorous job. Never before have three spinners of the pedigree, skill, body of work and experience of Yuzvendra Chahal, R Ashwin and Adam Zampa come together to bowl 12 overs in an innings in the IPL. At various points, for considerable periods, each of them has been the best white-ball spinner in the world. For long periods, they have been among the top few. Ashwin is so experienced that he has reimagined himself, dismantled the bowler we knew and put it together after he was told there was no place for fingerspinners in limited-overs cricket.
After Rajasthan Royals' win against Gujarat Titans, Chahal, Ashwin and Zampa have 874 T20 wickets between them. No other team in the IPL has ever fielded such a prolific spin attack. Kolkata Knight Riders came close when they had Sunil Narine, Shakib Al Hasan and Varun Chakravarthy playing together in 2021. Shakib played because he is an allrounder, and Varun was still just a rookie. They played only two matches together.
Ashwin is the banker out of the three in the Royals setup. He doesn't go chasing wickets, but you know that he will rarely concede ten an over across his allotment of four overs. Zampa is the quicker legspinner, who doesn't give up the stumps and hardly ever gets lofted down the ground. Chahal is a mix. He still keeps targeting the stumps, but he is not as quick as Zampa, and relies more on the sideways turn that he gets more of.
The Impact Player rule allowed Royals to field all three of them together in the first instance, against Chennai Super Kings in Chennai. They went on to bowl 12 overs for 95 runs and five wickets to fashion the first successful defence of a sub-190 total this IPL. They had to bowl four overs in the powerplay and at the death and Chahal bowled the 17th to MS Dhoni and Ravindra Jadeja for no boundary.
Against Titans, all three were in the starting XI because Royals were fielding first. Two legspinners proved to be one too many for Hardik Pandya, who got the better of Zampa inside the powerplay but holed out off Chahal. They bowled 12 overs for 105 in a match where Rashid Khan went for 46. Again, they bowled four overs inside the powerplay and at the death.
These numbers are not spectacular in general, but for spinners in T20s it is: to contain, perchance to dominate. Early rushes, though, suggest they might be complementing each other and making batters take risks against the other spinner. Chahal has the purple cap. Ashwin is doing more than one wicket per match, which is amazing for a fingerspinner. And we are yet to see the best of Zampa in the IPL.
On paper, three spinners should be risky in T20 cricket, but the quality of these spinners is making it a viable option. That too on away pitches, which they can't fashion to their needs. Against Lucknow Super Giants, Royals will play at home in Jaipur. If they create a track to suit their spinners, and if the pitches grow tired as they tend to in the second half of the tournament, Royals' attack could be the one to watch out for.
Sidharth Monga is an assistant editor at ESPNcricinfo
News Source: https://www.espncricinfo.com/story/r-ashwin-yuzvendra-chahal-adam-zampa-rajasthan-royals-three-card-spin-trick-1369694?platform=amp