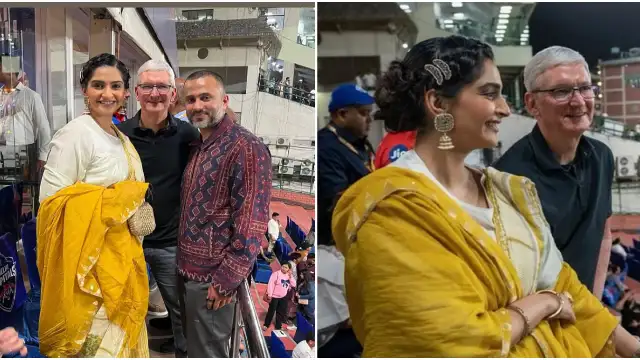 PICS: Sonam Kapoor watches DC Vs KKR IPL Match with Tim Cook and her hubby Anand Ahuja; Clicks selfies
A few days ago, many Bollywood celebrities such as Shilpa Shetty, Raveena Tandon, Madhuri Dixit, Mouni Roy, AR Rahman, Neha Dhupia and others came under one roof to celebrate the launch of Apple's first retail store in Mumbai. They clicked pictures, and interacted with Apple CEO Tim Cook, who is in India to inaugurate the Apple Stores in Mumbai and Delhi. Now, on Thursday, Tim Cook was spotted with Sonam Kapoor and her hubby Anand Ahuja in the stands as they enjoyed the Delhi Capitals (DC) vs Kolkata Knight Riders (KKR) IPL 2023 match at the Arun Jaitley Stadium in Delhi.
Sonam Kapoor enjoys IPL 2023 match with Tim cook and Anand Ahuja
Sonam Kapoor took to her Instagram account to share pictures of herself, Tim Cook and Anand Ahuja watching the DC vs KKR match from the stands. The first one is a candid picture that shows Tim Cook standing next to Sonam Kapoor as they watched the match. The next picture shows Sonam clicking a selfie with Tim Cook and Anand Ahuja at the stadium. Sharing the pictures, Sonam Kapoor wrote, "Tim Cook and entire @apple team – we hope you've had a lovely stay here and leave encouraged and positive on Apple's outlook in the country. We're so grateful for the care and attention you've given to creating your signature world class experience here (folded hands emoji) @anandahuja." Re-sharing the pictures, Tim Cook tweeted, "Thank you so much for an unforgettable evening!"
Sonam Kapoor wore an off-white and linen saree, and she wrote how comfortable she felt in the saree despite the Delhi heat. Sharing pictures of her stunning look, Sonam wrote, "In a simple linen sari with vintage jewels . I find saris the most comfortable to wear in the indian heat. Thank you @anavila_m for making some of the chicest and most beautiful saris that scream simplicity." She wore statement golden jhumkis, a matching ring, bangles and a tiny golden handbag. Check out the pictures below.
News Source: https://www.pinkvilla.com/entertainment/news/pics-sonam-kapoor-watches-dc-vs-kkr-ipl-match-with-tim-cook-and-her-hubby-anand-ahuja-clicks-selfies-1217758?amp