"I am definitely old, you can't really shy away from that, but however long I play, it's very important to enjoy the IPL"
Ekanth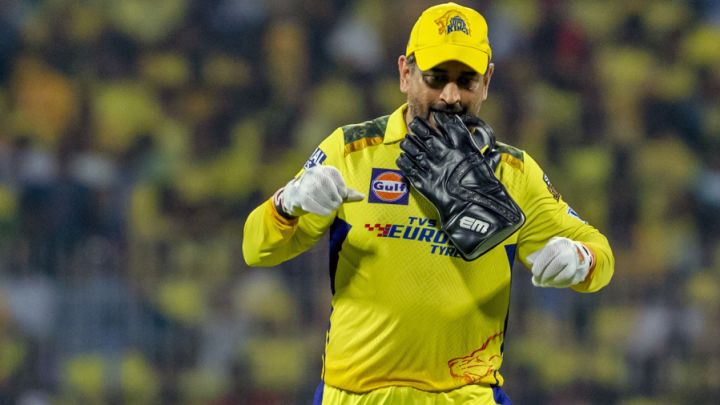 MS Dhoni is 41 years old and has been part of 240 IPL games, but he came into this season after close to a year-long gap following last year's edition. He knows he's at the twilight of his career, but believes that it will not stop him from cherishing every moment of a tournament he has won four times with Chennai Super Kings.
"[I am] Definitely old, you know, you can't really shy away from that. Whatever said and done, it's [the] last phase of my career," Dhoni said after leading Super Kings to victory against Sunrisers Hyderabad at Chepauk.
But he put a positive spin on the situation by drawing upon the loyal and vigorous support of his fans in Chennai, who came out in droves and sent out a cheer so loud that Dhoni had to wait before he could speak.
"However long I play, it's very important to enjoy the IPL. After two years, it has been a case where they [the crowd] can come [and] enjoy the game. It's a full house, they have the new stand, so it feels good to play here.
"And I said at the start of the tournament, we haven't played in Chennai a lot, we have only played like six seasons. So it feels good to be here. They have given a lot of love and affection, and they always stay back to hear me out."
This year, Dhoni has had to mentor a mostly young bowling line-up with limited experience. On Friday, it featured the likes of Akash Singh, Maheesh Theekshana, Tushar Deshpande and Matheesha Pathirana, who bowled 14 of the 20 overs. While Ravindra Jadeja did the bulk of the damage by taking three wickets, Dhoni trusted Akash and Deshpande with the new ball and used spin to tie down the batters in the middle overs. Super Kings conceded 60 runs and took two wickets between overs 6 and 16, including a 36-ball period where no boundaries were scored. When asked about his methods of guiding the youngsters, Dhoni said he offers the first say to the bowlers.
"I always tell them that the first preference of field and whatever you want to bowl is with you. Yes, you can convey to me, I may say that, 'no, I am looking for something like this.' Other than that, from behind, if the batter is somebody who can play the scoop shot behind, then I try to tell them, 'okay, we'll keep the fielder behind then bring in some other fielder on the top.
"With [Dwayne] Bravo it was difficult because he would never agree. But the good thing was he would keep an eye on the batters. But with these youngsters, you can tell them, and after that it is their call as to what field they want."
When asked about his wicketkeeping despite his age and lack of game time coming into the tournament, Dhoni let out his competitive spirit by half-jokingly complaining about not being awarded the best catch award for his take to dismiss Aiden Markram. Dhoni, standing up to the stumps, had little time to react and was wrong-footed, but managed to move his hands across and take a sharp catch.
"Still they didn't give the best catch [award], I was in such a wrong position," Dhoni said. "Just because you wear gloves, people think it's very easy but I felt that was a fantastic catch. Not because of your ability but at times you're at the wrong place at the wrong time when you catch it."
Ekanth is a sub-editor with ESPNcricinfo
News Source: https://www.espncricinfo.com/story/ms-dhoni-grateful-for-chennai-love-and-affection-during-last-phase-of-my-career-1370479?platform=amp