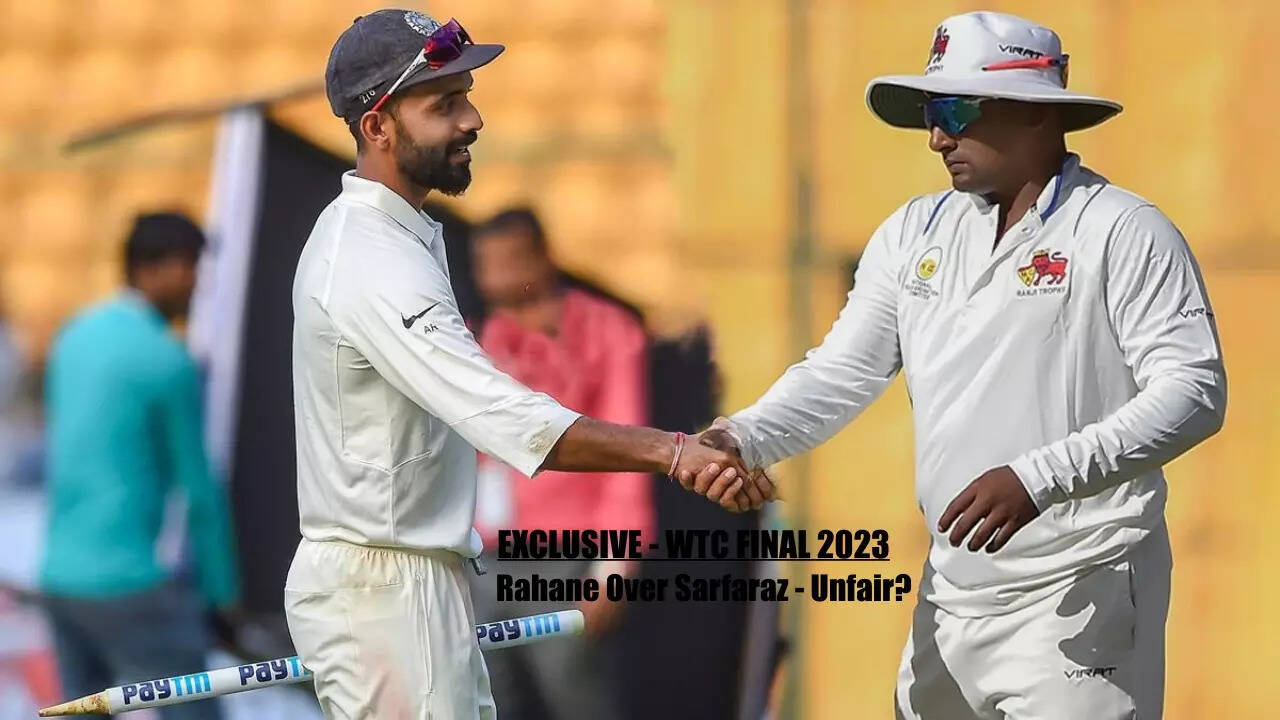 Laxman too was dropped, says MSK Prasad on Sarfaraz Khan's exclusion from Team India for WTC final – EXCLUSIVE
Photo : Times Now Digital
KEY HIGHLIGHTS
Ajinkya Rahane made a Test return for India for the WTC final.
Sarafaraz Khan failed to make it to the Indian squad for the WTC final.
MSK Prasad feels that picking Rahane was the right call.
Former India chief selector
MSK Prasad
reckons that although
Sarfaraz Khan
has done very well in the domestic circuit for the past couple of seasons, he needs to understand that opportunity delayed doesn't necessarily mean it is denied and cited former India great VVS Laxman's example, who was dropped from the India team after a series of poor scores but came back stronger by smashing close to 1400 runs in domestic cricket. So, the 48-year-old wants Sarfaraz to emulate Laxman and score as many runs as possible and the opportunity would present itself sooner rather than later.
"With regards to Sarfaraz Khan, I am so happy that the kid has done so well. Sometimes what happens is that some people might be a little lucky in getting their opportunity and for some people, it might get delayed. But opportunities getting delayed doesn't mean it is denied. So he needs to take it as a challenge and come back. If he comes back, seeing what he has done this season, obviously he is going to get his opportunities," MSK Prasad told timesnownews.com in an exclusive interview.
Someone like VVS Laxman was dropped too. He got back and got 1400 runs in domestic cricket. So, when someone is so keen to come back, to make a mark at this level, it is always good for him to score as many runs.
– MSK Prasad
"Someone like VVS Laxman was dropped too. He got back and got 1400 runs in domestic cricket. So, when someone is so keen to come back, to make a mark at this level, it is always good for him to score as many runs. Mike Hussey and Michael Clarke, scored thousands of runs in domestic cricket but their middle order was very very tough to penetrate. They never got disappointed. They always went back and scored runs in their domestic cricket. They went to play county cricket. They kept on getting the runs. If we keep ringing the bell, at some point you will get your opportunity," the former India chief selector added.
Talking about Ajinkya Rahane's selection, Prasad said that Virat Kohli, Cheteshwar Pujara along with Rahane have been India's mainstay in the middle-order for quite some time and the selectors did the right thing by opting to go with the 34-year-old Mumbai batter, given his current form in the Indian Premier League (IPL 2023). He further went on to add that his selection was not entirely because of his IPL performance but on the back of a very good Ranji Trophy season – that some of us might have failed to recognise.
"The first part of it is that – Ajinkya Rahane, Cheteshwar Pujara, and Virat Kohli have been the mainstay for India in the middle order for some time. Pujara had the option of going back to play county cricket and getting back his form. Then he came back into the Test squad and delivered also. Ajinkya never had that opportunity to go to the county and he has fallen back on domestic cricket like Ranji Trophy and other stuff. And he has delivered also," Prasad said.
"He has performed in domestic and he has not left any single match unattended. So with the kind of experience Ajinkya brings to the table, especially in a high-pressure game like the WTC final, I think the selectors have done absolutely the right thing in bringing him into the side. And one more reason why they had to fall back on Ajinkya is because of Shreyas Iyer and Hanuma Vihari. Iyer is not able to play and Vihari's form in domestic cricket needs a bit more improvement than what he had last year," the 48-year-old further added.
Suryakumar Yadav
was dropped from the squad for the WTC final after he made his debut against Australia in the last Test series that India played. While speaking about his non-selection, Prasad opined, "Suryakumar Yadav was selected into the Test squad because it was horses for courses. We had prepared spin tracks and we wanted someone who could sweep and do all that kind of stuff. Because none of the Indian players, except Rohit Sharma, sweeps the ball. So they got him for that particular series. So ideally, if you look at it, India desperately needed a solid middle-order batter and someone with experience."
"So who else other than Ajinkya Rahane? The selectors have done the right thing by picking him. Again, I am not getting carried away by what he has done for CSK, runs in any format are runs but we really needed someone in the middle order. And in away conditions, I think he has got one of the best records. So Rahane got his opportunity and selectors have done the right job," he concluded.
MSK Prasad is an expert on Star Sports Network Telugu for the on-going TATA IPL 2023
News Source: https://www.timesnownews.com/sports/cricket/laxman-was-dropped-ex-chief-selector-on-why-ajinkya-rahane-over-sarfaraz-khan-suryakumar-yadav-for-india-in-wtc-final-exclusive-article-99839118