The Knight Riders allrounder has pulled out due to international engagements with Bangladesh, and personal reasons
Nagraj Gollapudi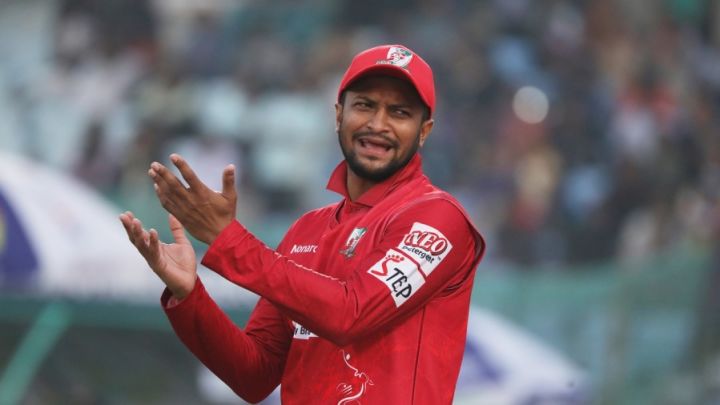 International engagements and personal reasons have forced Bangladesh allrounder Shakib Al Hasan to opt out of IPL 2023. ESPNcricinfo has learned that Shakib informed Kolkata Knight Riders about this development on Sunday. The franchise will begin the process of seeking a replacement once it gets a nod from the IPL.
Shakib is set to be involved in a busy few weeks for Bangladesh. He and keeper-batter Litton Das already missed Knight Riders' first match of the season, against Punjab Kings while playing a home T20I series against Ireland. The two are also part of Bangladesh's squad for a one-off Test match against Ireland that begins on Tuesday. This will be followed by a tour of the UK, where Bangladesh are set to play three ODIs against Ireland in Chelmsford on May 9, 12 and 14.
It is understood that Shakib told Knight Riders that he would be busy playing for Bangladesh in this period, and also mentioned that he has "personal issues to attend to", which would keep him away from the IPL.
The development also puts the spotlight on Litton, who was also signed by Knight Riders at the 2023 player auction in December. Litton will be part of the same two series Shakib will be involved in, against Ireland, but at the moment he remains part of the Knight Riders squad. There was no confirmation or clarity on whether Das, too, will opt out of the IPL.
On December 22, the day before the auction, the IPL had informed teams about the availability of overseas players. At the time, the Bangladesh Cricket Board (BCB) had informed the IPL about the "limited availability" of its players. The BCB told the IPL that the Bangladesh players selected for the Ireland series would be "available from 8 April to 1 May."
On March 18, Knight Riders had communicated to the media that Shakib would be arriving in India after the third T20I against Ireland on March 31, while Litton would arrive after the one-off Test match, which runs until April 8.
Shakib, however, was later named in Bangladesh's Test squad, reducing his availability to the franchise.
Without Shakib, Knight Riders have only six overseas players in their squad, including Litton. The team has already been hit hard by player unavailability issues, with their full-time captain Shreyas Iyer ruled out of at least the first half of the season with a back injury.
Knight Riders have played one game so far this season, losing a rain-affected contest against Punjab Kings in Mohali. They will play their next game on Thursday, at home against Royal Challengers Bangalore in Kolkata.
With inputs from Sreshth Shah
Nagraj Gollapudi is news editor at ESPNcricinfo
News Source: https://www.espncricinfo.com/story/kkr-allrounder-shakib-al-hasan-opts-out-of-ipl-2023-1366681?platform=amp