I missed IPL contract by trying to be loyal to England' Bopara cites his own example of how Tendulkar called him to play for Mumbai Indians but after discussions with Andy Flower, he denied in hope he would be picked for Test cricket, which didn't materialise.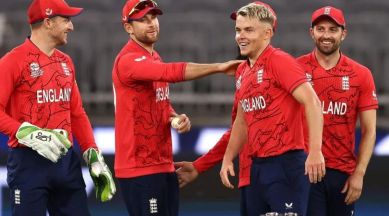 England players during the ICC T20 World Cup 2022. (ICC T20 World Cup)
Listen to this article
Your browser does not support the audio element.

The London Times reported a few days back how IPL franchises have proposed multi-million pound annual contracts to six prominent England cricketers, with a condition for them to retire from international cricket. The former England player Ravi Bopara reckons Jos Buttler and Sam Curran would be two of those players, and cites his own case to suggest the more players will take the IPL franchises's contract, and choose club over country.
You have exhausted your
monthly limit of free stories.
To continue reading,
simply register or sign in
Read this story with a special discount on our digital access plan. Now at just Rs 100 per month.
This premium article is free for now.
Register to continue reading this story.
This content is exclusive for our subscribers.
Subscribe to get unlimited access to The Indian Express exclusive and premium stories.
This content is exclusive for our subscribers.
Subscribe now to get unlimited access to The Indian Express exclusive and premium stories.
"This was coming. This has been a chat in county circuit and around cricket in general. This was always going to be happening ,especially after IPL teams started acquiring teams world wide – in South African league and in the major league coming up in America. We have already seen them acquire teams in CPL , to recruit West Indian player coming through. That was the start," Bopara said on BBC Test Match Special podcast.
"I am not surprised at all by the development. I am sure Jos Butler, Sam Curran would be part of that discussion. Those two would definitely be part of discussion," Bopara said.
Bopara said the development would tempt both the established England cricketer in the last phase of his international career, and also the young player just starting out on England career.
"It's a real thing for players to think about as its big money. If they are seeing longer contracts say 3 year or 5 years, then it's a serious issue for players to think about. If one of them is coming to an end of England career, then you are sort of thinking you have only 2-3 years left in England career, you might think this is better career for me," Bopara said.
He then talked about the issue from the angle of an upcoming cricketer in England.
"If you are someone just starting your England career, then this is a serious dilemma. As there is no guarantee that you are going to play for England for 5-10 years. If you are playing well, they might pick you but with this, you have a contract – – a 4-year 5-year contract is guaranteed. That's going to be difficult thing."
He was asked what would he do if he were playing in England and approached with such a contract now. He cited his own example from the past to detail his answer.
"I had a situation back then with Mumbai Indians. I had a call from great man himself Sachin Tendulkar, could you come over and play for Mumbai. It was a replacement. I was playing Test cricket and on the brink of being picked or not picked by England.
I got a call from him. I told Graham Gooch that I have got this call from Mumbai Indians and he went, "oooh, you have to make a decision. Do you want to play Test cricket. You have to play county cricket if you want to be selected for Test".
I then spoke to Andy Flower. He said, 'if you go to IPL, then you wont be considered to play Test matches in summer', Then I turned it down. I told them (Tendulkar and Mumbai Indians) that I want to play Test cricket. But then I didn't get picked for Test cricket that summer. So I missed out on IPL contract. I missed out on playing for England. That was a bitter pill. I missed it, by trying to be loyal.
"It stuck to me that everything is just a business. You can't rely on other people to take you; you are better off taking the contract. There is no guarantee that you will be picked for England. If you ask me now, 100% I would take the contract. Where is the paper? I will sign it, right now," Bopara said.
First published on: 29-04-2023 at 23:14 IST
News Source: https://indianexpress.com/article/sports/cricket/jos-buttler-and-sam-curran-will-be-surely-be-part-of-discussion-ravi-bopara-says-ipl-franchises-will-offer-long-term-contracts-to-england-players-to-play-only-for-them-8583269/lite/