The England fast bowler is looking ahead to another year featuring the Ashes and the World Cup – like in 2019, when he took the world by storm
Matt Roller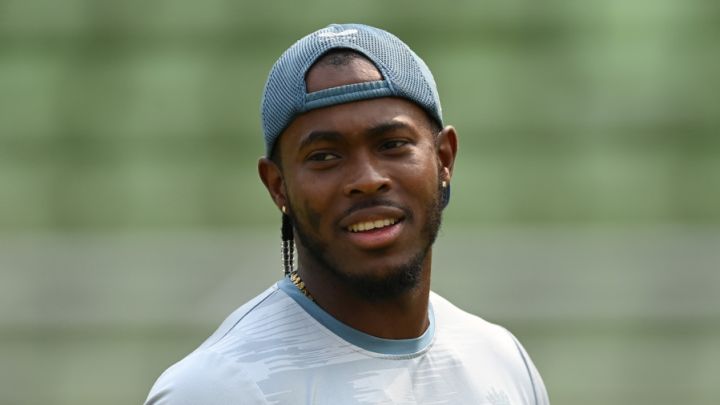 Four years have passed since Jofra Archer flew from India to the UK ahead of the summer that has defined his career so far. After months of speculation, he made his first appearances in international cricket against Ireland and Pakistan, in which he made a bright enough impression to be drafted into England's World Cup squad.
Archer would achieve more in his first summer as an England cricketer than most players do in a lifetime. He took 20 wickets in the World Cup, the most of any England bowler, and became a world champion when his nerveless Super Over clinched England's triumph in an unforgettable final against New Zealand at Lord's.
He took to Test cricket just as easily, with 22 wickets in his four Ashes Tests – including six or more each in England's victories at Headingley and The Oval. Archer bowled with immense skill, but the abiding memory was his pace: at Lord's, on debut, he reached 154kph during an enthralling spell to Steven Smith, which ended with Smith taking a vicious blow to the helmet.
For all his struggles with injury over the last two years, Archer has the chance to add to his legacy over the next seven months. There is a bigger gap between the Ashes and the World Cup this year than there was in the gruelling 2019 summer, but they are close enough together that success in the former can only bode well for the latter – as Archer well knows, based on his experiences four years ago.
"It's a huge year," Archer said just before his return to the Mumbai Indians playing XI last weekend. "I think everything is intertwined; everything bounces off everything else. If I can get through [the IPL] then I'll be in a good position to play in the Ashes, and then everything else will follow with it."
Having last played a first-class match nearly two years ago, Archer is realistic about his likely role in the Ashes. He said earlier this year that he would be happy to feature in a single match of the five-Test series, and said during last weekend's conversation that "nothing has changed" in that regard.
Lord's, 2019: Archer's 5 for 91 in the match did not quite reflect the impact his terrific pace made  Getty Images
Ben Stokes, England's captain, has made clear that he wants a pool of at least eight fit seam bowlers to choose from in every Test, and that he would ideally like to have at least one genuine quick at his disposal. "I think having the option to have someone who can bowl above 90mph is what any captain wants," Stokes said earlier this month.
Archer had hoped to build up his workload with some "extra work" during the IPL, but his recent niggle has made that difficult. He travelled to Belgium to see a specialist earlier this month after reporting some discomfort following his Mumbai Indians debut. The ECB has been monitoring his progress closely, even briefly sending physio Steve Griffin out to India.
But Archer sees himself as an all-format cricketer, one who can contribute to England's success in Test cricket: "I still want to play as much red-ball [cricket] as possible," he said. "I've never really had a thought of trying to give up on any of the formats as yet.
"Let me get through this year and see how the body's feeling, but I don't plan to give up any of the three. I may have to manage my workloads for at least a year, and that's absolutely fine with me. But I want to make the most of all the cricket that is available to me."
Archer made his full England comeback in South Africa earlier this year, taking 6 for 40 in his second game back. He then travelled to Bangladesh in March, where he bowled with good pace throughout and finished the tour with nine wickets in five appearances.
"I'm really, really happy with how everything has gone so far," he said. "It's still pretty tough, coming back and trying to manage expectations, and everything else that comes with it. But my brief experience has been really good.
Archer with Chris Jordan in Bangladesh earlier this year. "Everyone has welcomed me back with open arms," he said of his return to the England side  Gareth Copley / Getty Images
"It really has been great [to be back around the England team]. Just like here at Mumbai, everyone has welcomed me back with open arms, and I'm glad I got those opportunities to try and win some games for the team."
After a two-week break due to an elbow niggle, Archer returned to Mumbai's starting XI on the weekend, taking 1 for 42 in their defeat to Punjab Kings. He missed Tuesday night's game in Ahmedabad – Rohit Sharma, their captain, said he was "not well" – but will hope to play a full part in the rest of the tournament.
While England's World Cup defence later this year is at the back of his mind, Archer's immediate focus is the IPL, – as it is for most of the other dozen English players involved in this year's tournament. "You have the opportunity to play against some of your mates more often than not," he said. "It's very exciting – something you look forward to."
That situation has changed immeasurably from eight years ago, when Ravi Bopara and Eoin Morgan were the only England players involved in the 2015 IPL. Now, the ECB actively encourage their best players to gain experience in India. "Times have changed a lot since then," Archer said. "The last four years or so, the English guys have really done well.
"Like Jos – jeez, It feels like I can't remember a year that Jos hasn't scored 700 runs! All the boys are doing really, really well. We're putting our mark on the tournament, and hopefully we can inspire some English kids to want to play in the IPL in the future."
Conditions may be significantly different come October-November, when the World Cup is played. "I've never played in India in the latter part of the year," Archer said. "We don't know if the wickets will be different, but we'll have all the information that we need beforehand.
"I think our boys can play anywhere in the world, not just here. We are going to give it our best shot – I can tell you that for sure. Sometimes tournaments don't go your way, but sometimes you just need a little bit of luck, that's all."
The same is true for Archer himself. If this year goes to plan, the frustrations of the last two may all come to seem like a distant memory.
Matt Roller is an assistant editor at ESPNcricinfo. @mroller98
News Source: https://www.espncricinfo.com/story/jofra-archer-looks-ahead-to-the-2023-world-cup-and-ashes-ipl-2023-1371610?platform=amp