Alagappan Muthu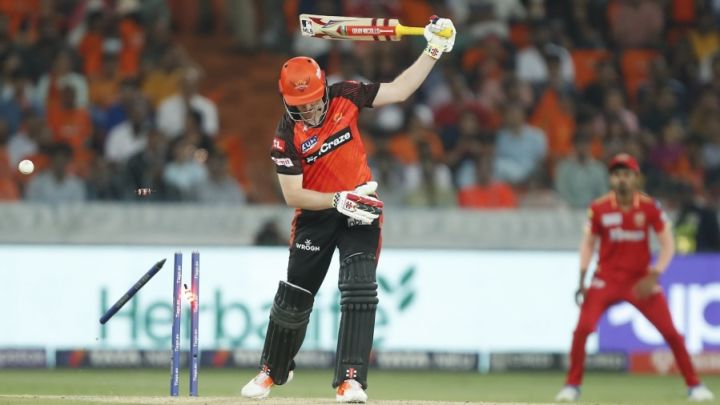 Harry Brook has a highest score of 13 at his IPL home ground.
At his best, he is a batter who forces a rethink about what cricket even is because he has this habit of hitting good balls for boundaries. More to the point, he has been able to do so with ease away from home. Test hundreds in Rawalpindi, Multan, Karachi and Wellington proved that England had unearthed a gem.
The IPL obviously took notice. He went for INR 13.25 crore at the auction. Sunrisers Hyderabad, who went in with the biggest purse, were fairly happy with their purchase. They have a history of underwhelming middle orders. So to pick up the next big thing in the sport, a man who weaves most of his magic from No. 5, constituted a big win.
Only nobody thought it would go like this. Or maybe they should have.
Those runs in Pakistan came on flat tracks. The ones in New Zealand had pace and bounce. This is India, and six out of seven times, he's found himself dealing with conditions that are slow and low.
Brook began IPL 2023 in the middle order, where he had a tendency to commit too early and lose his shape. He's built a whole lot of muscle memory playing cricket in places where the ball comes on to the bat. So as soon as he sees one on a length, he's into the drive on the up. He hasn't always accounted for how, over here, the ball stops on the pitch.
Sunrisers tried to mitigate this by pushing Brook up to open where he had a better chance of having the ball come on to his bat, and for one glorious night at Eden Gardens, it worked.
SRH bought Brook for a lot of money. That automatically brings scrutiny. They made some of his team-mates bat out of position to give him the best chance of success. That brings a whole different kind of pressure
Outside of that innings, though, Brook has made 63 runs in 73 balls with seven fours and no sixes. This is not uncommon for an overseas player dealing with their first IPL. Especially because a lot of them, like Brook, grow up in conditions that are the polar opposite of what they face here, of what they are asked to immediately overcome. Eoin Morgan and Aaron Finch, two World Cup-winning captains, know exactly what Brook's going through right now.
It is totally on him to do better but also, should his team have put so much on his plate? They bought Brook for a lot of money. That automatically brings scrutiny. They made some of his team-mates bat out of position to give him the best chance of success. That brings a whole different kind of pressure.
Abhishek Sharma was acquired for INR 6.5 crore at the mega auction ahead of IPL 2022. That was huge for someone who had played only 22 matches in the tournament, and was yet to hit a fifty. But he repaid their faith immediately, finishing the season as their highest scorer. And here's the rub – Abhishek opened in every single one of those 14 innings. Now, one year later, he doesn't have a fixed position. He's batted at the top twice. One innings at No. 4 and one at No. 5.
For what it's worth, Brian Lara, the Sunrisers coach, likes it this way. He sees Abhishek's left-handedness as an advantage in the middle order.
Should Brook continue to open for SRH?
Tom Moody and Shaun Tait take our rapid-fire questions after DC's win against SRH
And as for Brook, well, a former Sunrisers coach, the one who took them to the title in 2016, believes he will provide a handsome return on the investment.
"This is a long-term play," Tom Moody said at the start of April on ESPNcricinfo's T20 Time:Out. "I feel that Sunrisers have identified a very, very exciting young player. He's only 24 years old. And they see him as a ten-year-plus project. So a lot of people will look back in time and think, 'gosh, they got him at a steal'. You know, he's now part of that franchise. A bit like an AB de Villiers was for RCB."
Moody has since pointed out that Brook isn't playing on instinct like he used to, which makes sense. He is with a new team, in a new country, answering to the largest cricket-watching audience in the world. Some of them had already got to him. "I went on to social media, people were calling me rubbish, and you start to doubt yourself a little bit." It almost feels like he's given a little too much thought to proving he belongs in the IPL.
This is the part where a senior player should have stepped in and picked up the slack. Like, maybe, Sunrisers' other big buy at the 2023 auction. Mayank Agarwal was supposed to be the experienced Indian batter they could rely on. Instead, he's averaging 23, striking at 111 and contributing roughly 25% of the wickets they have lost to spin (five of 22).
All of this combined has left Sunrisers with a huge problem, and because it's at the top, it's trickling down into everything they are trying to do.
Alagappan Muthu is a sub-editor at ESPNcricinfo
News Source: https://www.espncricinfo.com/story/ipl-2023-srh-batter-harry-brooks-struggle-to-prove-he-belongs-in-the-ipl-1371797?platform=amp