S Rajesh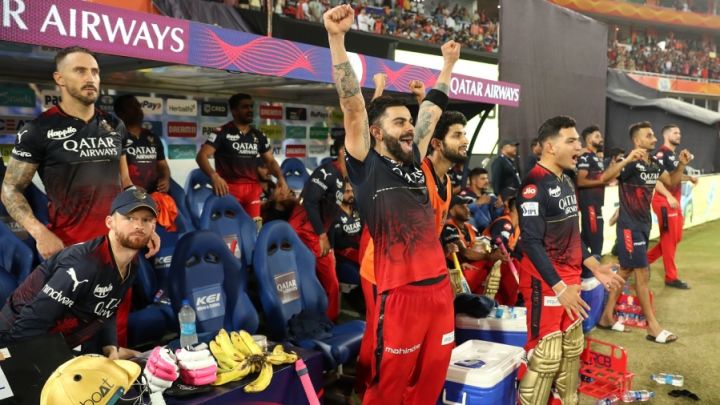 With just five games to go in the league stage, seven teams are still fighting for three playoffs spots. Here is a lowdown on the prospects for each team.
Royal Challengers Bangalore's victory against Sunrisers Hyderabad is a huge step in their quest for qualification, and ensures that their fortunes rest almost entirely in their hands: if they win their last match at home against Gujarat Titans, they will almost certainly go through.
Both Chennai Super Kings and Lucknow Super Giants can finish on 17, while Mumbai Indians can also get to 16, but because of their net run rate of 0.180, RCB have a comfortable cushion over Mumbai (-0.128). Even if they win their last match by just one run, Mumbai Indians will have to beat Sunrisers at the Wankhede Stadium by around 79 runs to be ahead of NRR. Since RCB play the last match of the league, at their home against Gujarat Titans, they will know exactly what is required when they take the field.
However, if RCB lose, then they will need Mumbai to lose too, and also hope that none of the other teams on 14 surpass them on NRR. Rajasthan Royals (0.140) are currently closest on NRR – even if RCB lose by just a run, Royals only need to beat Punjab Kings by ten (assuming first-innings totals of 180) to edge ahead.
For Kolkata Knight Riders (-0.256) and Punjab Kings (-0.308) to achieve the same, they will have to hope for much greater assistance from RCB: even if RCB lose by 30 runs, KKR will still have to win by 78 to get ahead on NRR; for Kings, that margin is around 94 runs.
Thus, if RCB lose their last game, they could still qualify if Mumbai and Royals lose their last matches too. Royals, on the other hand, will have a good chance of qualifying if they beat Kings, and Mumbai and RCB lose their last matches and stay on 14 points. For Kings and KKR, though, qualification chances look extremely bleak.
RCB's win is also bad news for Chennai Super Kings and Lucknow Super Giants, as neither of them is assured of qualification; had RCB lost, both would have qualified. If Mumbai and RCB both win their last game and get to 16, then both Super Kings and Super Giants will need a win to assure themselves of a top-four finish, as a loss will keep them on 15 points.
S Rajesh is stats editor of ESPNcricinfo. @rajeshstats
News Source: https://www.espncricinfo.com/story/ipl-2023-playoffs-scenarios-rcb-take-a-huge-step-towards-qualification-1376750?platform=amp