While the rule has given local players more chances to shine, high-impact batting innings from subs have been few. Could some suffer from coming into the game cold?
Matt Roller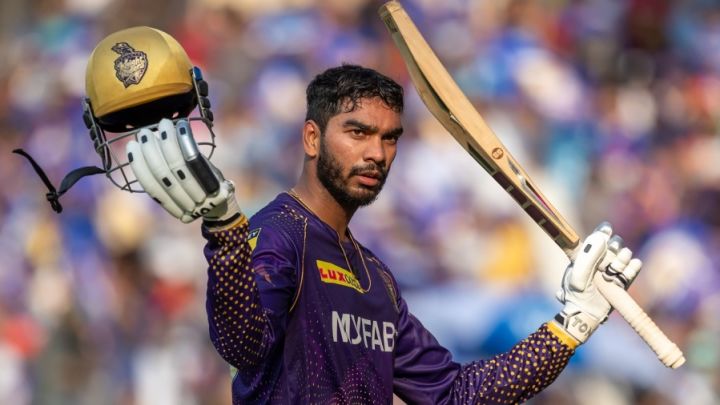 Halfway through Royal Challengers Bangalore's game against Delhi Capitals on Saturday afternoon, history told Faf du Plessis that they had enough runs. "In normal circumstances in a day game, 175 [174] feels like a really good score," he said after the game.
"[But] with the new rule – the extra batter – you just feel like you need more runs…" he added. "You feel like it's maybe 10 or 15 runs you need to get more." After taking four early wickets, Royal Challengers eventually closed out a 23-run victory, but the batting depth enabled by the new rule saw Lalit Yadav walk out as low as No. 9 in Capitals' chase.
Du Plessis' analysis was near-perfect. The average first-innings score in IPL 2023 so far is 183.4. It was 12.3 runs lower in IPL 2022 at 171.1; at the equivalent stage in the tournament, it was 8.8 runs lower at 174.6. There have been as many 200-plus totals chased down this year as there have sub-190 totals defended (two of each).
It was telling that du Plessis described the Impact Player rule as "the extra batter". In most T20 cricket, teams are forced to make a choice between fielding a batting-heavy or a bowling-heavy side; in IPL 2023, the introduction of a substitute player has enabled them to pick a bowling-heavy side when they bowl, and a batting-heavy side when they bat.
Across the first 24 games of the season – around one-third of the league stage – the majority of teams have used the rule in a very similar way. If they bat first, they hand in a teamsheet featuring an extra batter, then substitute in a bowler at the innings break – often making a call between an additional spinner or seamer.
If they bowl first, they name a team which features an extra bowler, then take off a tailender and bring in a batter – either at the fall of the relevant wicket or, if the batter is a better fielder than the bowler he is replacing, when the bowler's spell is complete. "It feels to me like we're just playing 12 on 12 rather than 11 on 11," said Mike Hussey, Chennai Super Kings' batting coach.
Occasionally, teams have subbed on additional batters in place of an already-dismissed batter when they are struggling in their first innings: Punjab Kings subbed in Sikandar Raza for Prabhsimran Singh when they were 63 for 4 in the ninth over against Sunrisers Hyderabad, while Royal Challengers brought in Anuj Rawat for Mahipal Lomror at 132 for 6 in 15th over against Capitals.
Will the Impact rule breed a feeling of disconnect?
Being involved in a substitution might sound like the club cricketer's dream: in the past week, both Harry Brook and Venkatesh Iyer have been substituted at the innings break after making hundreds, putting their feet up in the dugout while their team-mates do the hard work in the field.
But in practice, most professionals want to be involved. "It's a funny one," Tim David, who has twice been involved in a substitution, said. "I really feel like I'm in a good place to contribute as a fielder for the team, and if I need to bowl… there are going to be guys over the course of the season that are going to be in and out with the Impact Player. That's just for us to [accept that] we're doing the best thing for the team."
Batters who are substituted into the game at the interval have had mixed results: Venkatesh, for example, made 83 off 40 against Gujarat Titans as an Impact Player, but others like Prithvi Shaw have struggled badly – perhaps in part due to the fact they have been sitting still in the dugout during the first innings, rather than keeping their bodies loose in the field.
"A player of his quality, at his age, he should want to be in the thick of things all the time and not say, 'I'm happy as the Impact Player,'" Ravi Shastri said on ESPNcricinfo's T20 Time:Out show, addressing Capitals' use of Shaw. "You want him contributing… rather than getting into a habit of 'I'm only going to bat and then feet up in the dressing room.' That's not good for a guy at his age, 23."
There is a contrary view. Having closed out Mumbai's victory over Capitals last week, David said: "At the moment, I've been the Impact Player: I get to sit down for 20 overs and watch and by the time I came out to bat I was fresh. Maybe that helped me get back for a quick two at the end of the game?"
Freeing up the top order
Even if there have only been a handful of notable performances from batters introduced as Impact Players, the rule has still had an impact. As any top-order batter will tell you, batting depth has a liberating effect. "It allows you to just keep going and play with so much freedom," Jos Buttler said after England's victory over India in the 2022 T20 World Cup semi-final, in which Chris Jordan was due to bat at No. 10.
Increased opportunities for local players
The rule has also tested the depth of India's talent pool. In IPL 2021, a single round of fixtures (each team playing once) involved a minimum of 56 Indian players: eight teams, at least seven local players each. In IPL 2023, with the Impact rule coming in, there are a minimum of 80 Indian players – 10 teams, at least eight players each – involved in each round, a 43% increase.
That increase has played out in practice. In the first 24 games of the 2021 season, 76 Indian players featured. In the first 24 games of 2022, with an increase from eight to 10 teams, 91 Indian players featured. In the first 24 games of 2023, with the addition of the Impact Player rule, 107 Indian players have featured.
With several leading Indian players also absent through injury, a number of young, uncapped players have won opportunities, while some veterans who had struggled for opportunities in recent seasons – such as Piyush Chawla, Mohit Sharma and Amit Mishra – have made returns to the IPL.
The genuine allrounder has not gone out of fashion
There were concerns that the introduction of the new rule would negate the role of the allrounder, but it has not played out that way. In fact, there appears to have been a marginal increase in the number of allrounders: each match this season has seen 1.54 players per game batting in the top six and bowling two or more overs; at the equivalent stage of IPL 2022, that figure was 1.29.
Certain allrounders, who are more occasional bowlers, have been used sparingly: Rahul Tewatia, Riyan Parag and Shivam Dube are among the players who have yet to bowl a ball in IPL 2023 after sporadic usage last season. But genuine allrounders like Sam Curran, Ravindra Jadeja and Krunal Pandya have still been just as important to their respective teams.
The Impact Player rule is still nascent, and we may see new, inventive tactics employed as the season wears on. But at this stage, the early trends are clear: "the extra batter", as du Plessis terms it, has emboldened teams to aim bigger, playing a significant part in a high-scoring start to the IPL season.
Stats inputs by Shiva Jayaraman
Matt Roller is an assistant editor at ESPNcricinfo. @mroller98
News Source: https://www.espncricinfo.com/story/ipl-2023-how-much-impact-has-the-impact-player-rule-had-1369674?platform=amp