Super Kings struggled against spin after a promising start, leaving Dhoni and Jadeja too much to do at the end
ESPNcricinfo staff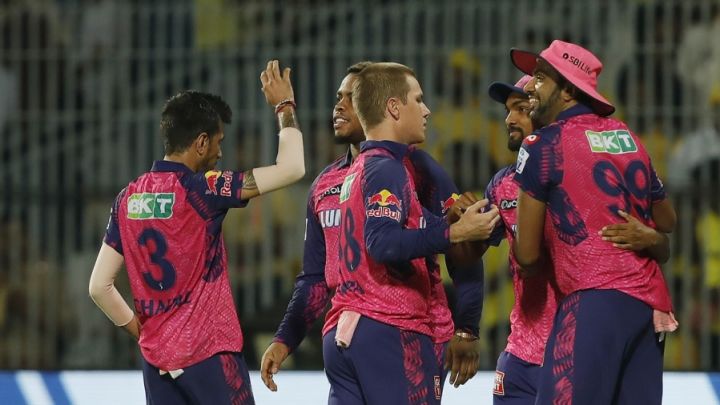 MS Dhoni has urged Chennai Super Kings' batters to take "ownership", after a middle-overs slump cost them victory against Rajasthan Royals on Wednesday night. Chasing 176, Super Kings were well placed at 78 for 1 in the tenth over before Royals' spinners got to work, reducing them to 113 for 6 by the end of the 15th.
Dhoni and Ravindra Jadeja nearly pulled off an improbable win with their end-overs hitting – the match ended with Super Kings one hit away from victory having needed 54 from 18 balls at one stage – but the Super Kings captain suggested after the match that it needn't have come down to that situation in the first place.
"I think [we lost it] in the middle [overs while batting], we needed a bit more strike rotation," Dhoni said at the post-match presentation. "I don't think there was a lot [of help] for the spinners. Yes, they have experienced spinners, so they bowled very well. They were bowling the right length, but I felt in that period you have [we had] too many dot balls.
"If the wicket is slow, if it's stopping and turning, then I can understand, but with the set batsman and the new batsman going in, I don't think it was that difficult. So I think the ownership needs to come from the batsmen."
Super Kings needed 21 at the start of the final over, and the responsibility of bowling it fell to Sandeep Sharma. He started with two wides to Dhoni, and low full-tosses off his second and third legal deliveries that Dhoni smacked for leg-side sixes. Thereafter, however, Sandeep pulled things back smartly, nailing his yorkers after changing angle to go around the wicket to Dhoni.
Dhoni faced two of the last three balls, only managing to drag them along the ground for singles. In between, Sandeep bowled one ball to Jadeja, angling it away from the left-hander's hitting arc from over the wicket and conceding another single.
Sandeep explained his thought process when he was interviewed by Star Sports after the match.
"In the last over, I wanted to execute yorkers," he said. "I've been bowling good yorkers in the nets. One side of the ground was bigger, so I thought I would use it and bowl at the [batter's] heel but they turned out to be low full-tosses and went for six. Then I changed my plan and went around the wicket, hoping for a change, and it was good that the result was different.
"I bowled over the wicket to Jaddu bhai and my plan was to keep the ball away from his reach. The shots he hit to Jason [Holder] were down the ground. So my plan was to take it away from his reach. And to Mahi bhai, my plan was to change the angle as I got hit for two sixes while bowling at the heel from over the wicket. So I went around the wicket and bowled it wide, and changed the angle."
News Source: https://www.espncricinfo.com/story/ipl-2023-csk-vs-rr-ms-dhoni-asks-batters-to-take-ownership-after-middle-overs-muddle-1368436?platform=amp