Naveen-ul-Haq, the son of a doctor from war-torn Kabul who moved to Pakistan as a refugee, finds himself in the centre of the on-field spat between Virat Kohli and Gautam Gambhir in the Monday night game between RCB and LSG.
"I have come here to play in the IPL, not to take abuse from anyone," The Indian Express learns he told one of his LSG teammates. When he was batting, he was involved with incidents with Mohammad Siraj and Kohli, with his team-mate Amit Mishra stepping in when Kohli got going. Later, during the handshakes, he and Kohli had one more unpleasant interaction, which has already gone viral.

The 23-year-old on Tuesday morning shared a cryptic Instagram post, which is being deciphered as a dig at Virat Kohli.
"You get what you deserve. That's how it should be and that's how it goes," Naveen wrote on his Instagram story.
It's not the first time he has entered a cricket brawl, so to say. It's something that he once said about himself with respect to an on-field verbal sparring with Pakistan's Mohammad Amir and later with Shahid Afridi in 2020, that captures how he views himself.
"If someone is saying something to me I won't back off. I have had it since childhood. It comes naturally to me. I wouldn't be speaking truthfully if I said from tomorrow I would change it. If I said that I would back off when someone says something to me, I can't say I wouldn't do it. It is in my body. It is in my DNA," he once told the Cricketer magazine.
LSG v RCB, Game Day Dressing Room Reactions

King Kohli reacts to the win, Faf explains the crucial partnership and how Virat's aggression helps the team, Karn and Hazlewood talk about their performances, before the team sang the victory song. Watch Game Day for more…#PlayBold pic.twitter.com/Jr0kCzYoIa

— Royal Challengers Bangalore (@RCBTweets) May 2, 2023
Back then, he was playing for Kandy Tuskers in the Sri Lankan Premier League. Naveen was seen hurling cuss words at Mohammad Amir during the face-off. A couple of senior Tuskers players, including Munaf Patel, tried to pull the young Afghan bowler from the scuffle.
During the post-match handshakes, tempers flared between Shahid Afridi and Naveen-ul-Haq, with both having a go at each other.
Post the match, Afridi has tweeted Naveen to "play the game and don't indulge in abusive talk." To which Naveen had replied he can't stay calm if "someone says you all are under our feet and will stay there," citing it as a disrespect to the people of Afghanistan. Amir would call Naveen a "liar" and claim he never denigrated "Afghanistan". And Amir, who had served a punishment for match fixing, would add, "He was constantly abusing me, calling me a traitor and saying I should have gone to jail for 5 years".
My advise to the young player was simple, play the game and don't indulge in abusive talk. I have friends in Afghanistan team and we have very cordial relations. Respect for teammates and opponents is the basic spirit of the game. https://t.co/LlVzsfHDEQ

— Shahid Afridi (@SAfridiOfficial) December 1, 2020
In Naveen's telling, the incident went thus: "It was in the moment," he says. "Amir came out to bat and they were losing the match. My first delivery he swung so hard but missed the ball. I smiled and asked him how big a six he wanted to hit – I made a joke and he took it seriously. I am competitive from the first ball to the last ball but after the match I don't have anything for anybody in my heart. He is a good player, a good cricketer." But in this case with Kohli, tempers spilled even after the game.
It's been some journey for him from Kabul to Pakistan and back to Afghanistan to play cricket. Growing up, he would become a fan of the Indian cricket team. "Whenever India were playing, I would watch the match. That is where my passion and love for cricket started. My mother and father wouldn't let us play cricket on the weekdays but at the weekend we could play tape-ball cricket outside our home for an hour or two," he told The Cricketer. "I was a batsman-wicketkeeper then, not a bowler. I hated bowling. I loved batting in tape-ball cricket. My elder brother and I were always having cricket fights – if that is what you want to call it. We were never on the same team – always against each other. There was a rivalry in our home."
When the family returned to Afghanistan, he got his first chance to play with a leather ball. "It was a random Friday and I went down and told my father that I wanted to start playing leather ball cricket and be a professional cricketer. He said: 'No son, you can't do that; you have to focus on your studies'. He is a doctor so he was always thinking you had to study."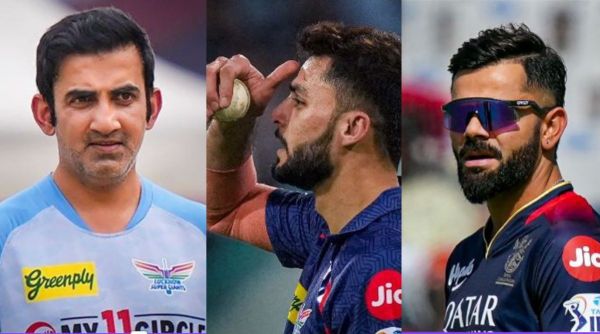 (from left to right) Lucknow Super Giants team mentor Gautam Gambhir, Lucknow Super Giants player Naveen-ul Haq and Royal Challengers Bangalore player Virat Kohli.
His brother intervened to have a chat with the father while Naveen stayed outside the room, praying his father would agree. His father did, and soon at the national cricket academy, Naveen found himself running in to bowl at the nets.
"I still remember the first ball I bowled with the leather ball; I hit the top of the net with a beamer," he laughs. "I thought it was going to be the same as the tape ball but realised it was totally different. I kept my eyes away from the coach and when I spoke to I told him I didn't have the proper shoes, and that I had slipped. He moved me to the juniors' net and told me to practise."
Things kept improving afterwards but there was one more moment of will after he was benched during the 2016 U-19 world cup. Frustrated, he gave himself a deadline: "I sat down with my family and told them I was only going to give it one more year. I would give 110 percent effort on and off the field in every part of the game. I said: 'If I do well my results will come and I will continue playing cricket but if it doesn't happen I will quit.' He starred in the next tournament – the Shpageeza T20, Afghanistan's domestic 20-over competition, picking 13 wickets (only Rashid Khan took more), and soon found himself in the national team.
During the 2021 T20 World Cup, ICC shared a split-screen video of Jasprit Bumrah and Naveen-ul-Haq in tandem, highlighting, frame by frame, the common features in their actions.
"Even I didn't know I had a similar bowling action to Jasprit Bumrah. Before this T20 World Cup, no one had pointed this out. You know the similar load-up or the hyperextension. It was during the match that I saw it on the big screen that our bowling action was being compared and I was like 'wow!', there is indeed some similarity," Naveen had said after Afghanistan's match against India. "I will be glad if I even become 50 per cent of the bowler he is. He is simply terrific."
Naveen credits the bowling coach from England Ian Pont as his bowling mentor, and for helping him make effective adjustments to his action.
Naveen has experience of playing in the T20 leagues across the globe. He had played in the Vitality Blast in England, at the CPL in the Caribbean and BBL in Australia, apart from one stint with LPL in Sri Lanka, and for Quetta Gladiator in the PSL, and also captained the Afghanistan U-19 team in the 2018 World Cup, won by Prithvi Shaw-led India.
He also topped the wicket charts at the Vitality Blast in 2021, picking up 26 wickets in 14 games for Leicestershire at an economy of 8.67. "I wanted to see what others think about the game, see how they play, share the dressing room with them. I wanted to know what their rituals are, what they do off the field and on the field, how they behave. I wanted to go and show my abilities. Luckily in the past two years I have played a number of leagues and I can say proudly I have done something in the franchises."
Last year, he was in the news when he took a break from the ODIs to prepare for the t20 World Cup, held in Australia.
"I have made a decision to take a leave from ODI cricket with immediate effect," he said in the note. "My decision is based on considering the upcoming T20 World Cup in Australia coming later this year, and I want to prepare myself physically and mentally for the event."
He played only one match for Afghanistan but played a monumental role against Australia. Afghanistan lost the match by four runs and also knocked the hosts out of the tournament. Naveen finished with an impressive spell of 3 for 21 from his overs. He took the wickets of David Warner, Steve Smith and Pat Cummins.
Naveen brings pace and a plethora of slower variations, including a potent back-of-the-hand slower delivery. His variations with awkward action has caused trouble to the batsmen in the IPL.
In this season, the seamer has taken seven wickets in four matches and was instrumental in LSG's 56-run win over Punjab Kings. On a surface where 458 runs were scored, Naveen gave away only 30 runs from his quota of four overs and picked up three wickets.
Even as his on-field career is blooming, his run-ins with Kohli, Afridi, and Amir have become the talk of the town.
In the Cricketer interview, he summed himself thus: "People say I am not like that off the pitch – I smile, I joke around with my friends. I am not that serious. But once I am on the ground I am quite serious, whether I am playing franchise cricket or representing my country … I won't back off if someone says something to me."

News Source: https://indianexpress.com/article/sports/ipl/naveen-ul-haq-the-man-at-the-centre-of-kohli-and-gambhir-on-field-spat-once-had-a-tiff-with-afridi-8587505/