Halfway into IPL 2023, ESPNcricinfo Identifies the best performers after factoring in the context and match situation
S Rajesh
T20 was originally meant to be a young man's game, but one would scoff at that notion seeing the top performers of IPL 2023. The leading run-scorer is Faf du Plessis, who'll turn 39 in July; the third-highest score this season is the unbeaten 99 from Shikhar Dhawan, who is 37; with a 30-ball cut-off, the batter with the highest strike rate (199.04) is Ajinkya Rahane, who'll turn 35 in June; the leading wicket-taker for Mumbai Indians is 34-year-old Piyush Chawla.
All of these players are among the top seven in terms of the top impact players at the halfway stage this season, according to ESPNcricinfo's Smart Stats, a performance rating system which takes into account the context and match situation for each batting and bowling display.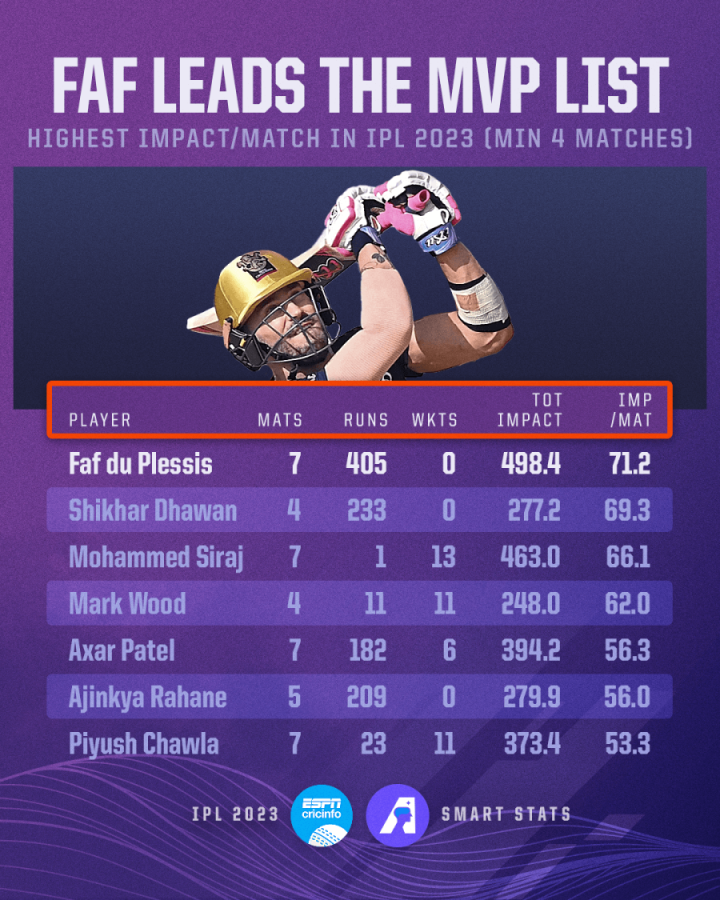 ESPNcricinfo Ltd
With 405 runs at a strike rate of 165.3, there is no doubt that du Plessis has been the stand-out batter of the tournament. He is also at the top of the MVP list, collecting 71.2 impact points per match. Each of his five 50-plus scores got more than 75 impact points, which is an illustration not just of consistent run-scoring, but also of maintaining a terrific strike rate.
Dhawan has unfortunately missed three games due to injury, but his unbeaten 99 off 66 is arguably the top batting performance of the tournament, especially since it came out of a total of 143, and the other batters collectively scored 38 off 54. That is reflected in his impact score of 161.05 for that innings, the highest impact points for any player in a match this season. It's marginally higher than Venkatesh Iyer's 51-ball 104 in a relatively high-scoring game against Mumbai Indians.
If du Plessis is the stand-out batter so far, then his team-mate Mohammed Siraj has that honour among bowlers, according to Smart Stats. He is joint second on the highest wicket-takers' list with 13, one behind Rashid Khan's 14, but the algorithm reckons those 13 scalps are worth 18.3 Smart Wickets, compared to Rashid's 16.8. That's because of the number of top-order wickets Siraj has taken – he has seven in the Powerplays, which is joint highest with Trent Boult. Those breakthroughs have often set the tone for the innings to give Royal Challengers Bangalore early ascendancy.
The two huge surprises in that list, though, are clearly Rahane and Chawla. Of the five innings Rahane has played so far, four have been 30-plus runs at 160-plus strike rates; two of those have been 60-plus runs at 200-plus strike rates. Rahane's current impact per innings of 55.99 is easily the best of his IPL career. In fact, only once before has his impact exceeded 35 – in 2015, when he scored 540 runs at a strike rate of 130.8. Most of his IPL career, his impact per innings has hovered in the 20s, which is about half of what he is going at this season.
Similarly, Chawla's resurgence has been remarkable. In the last three IPL seasons that he played (2019 to 2021), he took 17 wickets in 21 games at an average of 36.9 and an economy rate of 9.04. This season, his 11 wickets have come at 17.45, and an economy rate of 7.11.
Teams and their Impact Points
Chennai Super Kings and Gujarat Titans are topping the points table halfway into the season, but how do the teams stack up in terms of Impact Points in the tournament so far? The table below lists the batting and bowling Impact Points for each team, and apart from Royal Challengers sneaking into the top position, it quite closely resembles the points table. Super Kings and Titans are second and third. The other teams on eight are all bunched together, as are the bottom-runners on four.
Royal Challengers topping the list is largely because they have taken the most wickets among all teams – 54, one more than Titans and three more than Super Kings – and they also have the second-best run rate (9.41) after Super Kings (9.68). They have also been involved in a few close finishes: those add to the impact points because of the high pressure on both batters and bowlers. Of the 2471 points they have earned, 39% has been contributed by two players – du Plessis and Siraj.
What also stands out is the poor batting numbers for Delhi Capitals and Sunrisers Hyderabad. They are languishing at the bottom in terms of run rates too – 7.83 for Sunrisers and 7.49 for Capitals – while the 60 wickets lost by Capitals are the most by any team. Sunrisers are also at the bottom of the bowling impact points, which illustrates what a fall it has been for a team which used to pride itself on its bowling – apart from Mayank Markande and Bhuvneshwar Kumar, none of the others have had an impressive tournament so far.
S Rajesh is stats editor of ESPNcricinfo. @rajeshstats
News Source: https://www.espncricinfo.com/story/espncricinfo-superstats-ipl-2023-faf-du-plessis-ajinkya-rahane-shikhar-dhawan-rule-the-roost-1371426?platform=amp